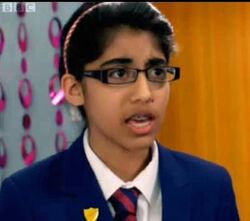 Deliah 'DeDe' Baxter is an annoying little shit on the show. Her family were blown up when she was being a nerd and did a science experiment that resulted in the detention of her house and explosive dismemberment of her family.
She is a total spazmoid who is always trying to outsmart our dearest beloved sadie whom she viciously murdered in the jawdropped series finale.
Fun facts about DeDe:
- She murdered her whole family and best friend
- Has a huge crush on this stupid homosexual names Kit
- She smells of curry constantly as pointed out by mother Sadie herself in 02x12
- She is a huge nerd and everyone hates her
Ad blocker interference detected!
Wikia is a free-to-use site that makes money from advertising. We have a modified experience for viewers using ad blockers

Wikia is not accessible if you've made further modifications. Remove the custom ad blocker rule(s) and the page will load as expected.